In case you haven't noticed, January 2016 was the year I transitioned from paid employment into launching my freelance digital marketing agency (full-time).
Right smack in the middle of a terrible recession that hit Nigeria like "Hurricane Katrina", I started my small digital marketing agency.
This happened after my former boss felt I would do great as an entrepreneur, rather than being a full-time employee.
I took that as a sign from God to move to the next level.
I still remember the fear in my mother's voice when I told her I wasn't going to look for another job and was striking out on my own.
I assured her that if I don't succeed, I can always dust my resume and go look for a job.
Even though I wasn't sure how I would succeed. But I did it afraid. 🙂
She had no choice but to pray for her daughter's success, even though she couldn't understand the type of business I run on my laptop.
This is 2017! I can't believe I made it to one year!
Before I transitioned into a full-time entrepreneur, I have been running my online business (my blog) on the side since 2010.
My daily routine usually involved waking up at 4.00am in the morning to write, edit and publish a blog post, email newsletter, social media update, or sales copy.
Next, I'd go to work in the morning, close from work by 5 pm and go home to work on my side hustle from 9 pm until 11.30pm before going to bed.
Then my weekends were the busiest!
Either I was holding one-on-one training sessions with clients or working hard to finish clients' projects.
So what did I learn while running my own marketing consulting business? A LOT!
Let me share them with you below.
My First Year In Freelance Digital Marketing Agency Review:
January:
Started my freelance business and offered to mentor my virtual assistant in Digital Marketing skills while he helped out with clients' graphics design, content marketing, and website design. I landed my first client to design his Jobs Portal.
Thanks to constantly monitoring my keyword rankings using Positionly app, one morning, I discovered that my Google ranking for my SEO landing page had crashed from Page 1 to Page 4.
I swung into action to optimize my landing page and the next day, it jumped back up to page 1.
Learn more about how I did it in my SEO That Outranks course.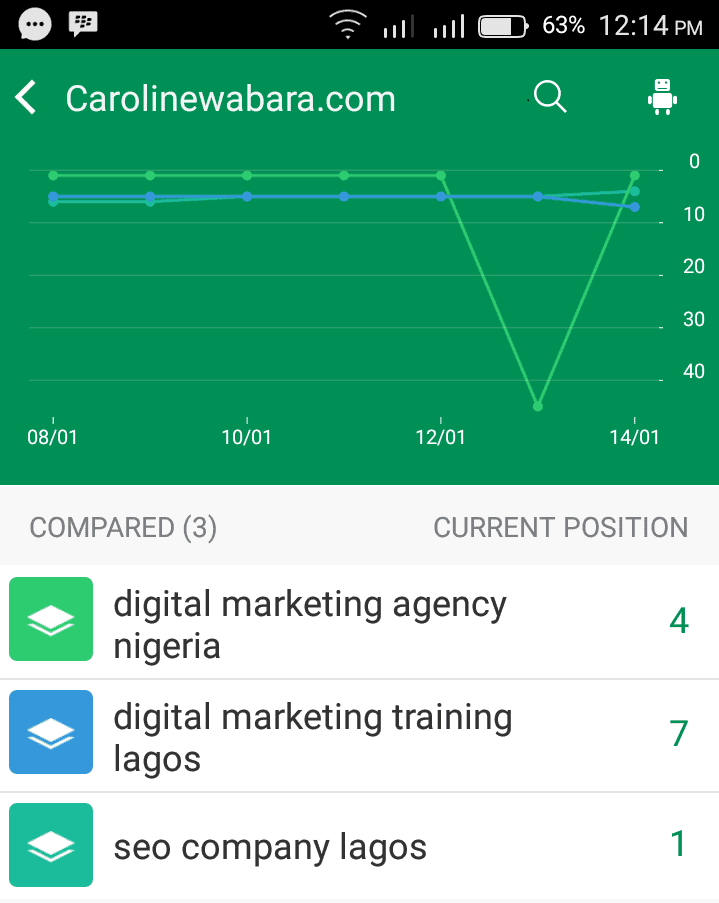 February:
I also launched my signature email course on Digital Marketing Automation. I started by giving it away for free to my email list to get their feedback and the testimonials were positive.
So I used their testimonials for my landing page turned it into a paid email course. The sales have been great.
March:
I got scouted on Nairaland by Mr. Taiwo Obe, who found my link on the forum and invited me to speak at his conference for Kaduna State PR Officials.
I agreed and started preparing my training materials. The topic was SEO for Government Agencies.
I guess Google did me a huge favour because if they had not de-ranked my website, I wouldn't have dropped my link on Nairaland and Mr. Obe wouldn't have found me.
April:
I found myself on an Arik Air flight from Lagos to Kaduna for the speaking engagement and checked into this amazing hotel room (Hotel Seventeen) for 2 nights. My 20 minutes presentation to a team of PR Officials was a success.
May:
I started organizing monthly Digital Marketing training and Social Media training. I also redesigned my sales landing pages to increase conversions.
Then I optimized the registration process to make it easy for registered members to be redirected to the checkout page to make payment immediately.
I accomplished a seamless and well-streamlined registration process.
June:
I launched my Facebook and Whatsapp group after being an invited guest tutor at a Whatsapp group.
This got me motivated to start mine and resurrect the already dead Facebook group. Read how I built my Facebook & Whatsapp group.
I registered my company. This registration was done in a trade by barter deal I made with an Accounting Firm whereby I offered to design their website while they registered my company name for free.
A WIN-WIN situation.
July:
More client projects on SEO and website redesign. Also, I joined and participated in more Facebook and LinkedIn groups. My consistent activities in these groups landed me a few more clients and referrals that lasted till the end of 2016.
August:
The Nigerian currency kept getting weaker against the dollar. The Central Bank of Nigeria was no longer selling dollars to Bureau Delaware Change companies and the banks put a $100 limit on our monthly online purchase.
What this meant for me was that I had to prioritize what services I would be paying for each month and to limit my spending.
After much thinking and calculations, here is a list of internet marketing tools I pay for each month that is within the $100 dollar budget limit:
MAILCHIMP – $25
GSUITE (Formerly Google Apps) – $8.33
BUFFER – $10
DROPBOX – $9.99
FACEBOOK RETARGETING – $46.68
October:
I got invited by Mr. Taiwo Obe again to speak on Social Media Marketing for SMEs again.
November:
I started planning my SEO That Outranks Course which I will be launching in 2017.
December:
I participated in a Joint Venture partnership with other experts the world in a Christmas Mega Giveaway in which I offered to giveaway my popular 5-Day Email Course on Digital Marketing Automation for free for just 7 days.
I also started planning my website rebranding. In case you haven't noticed, I'm a BLUE girl! I love all shades of the colour blue from my very first blog design till date.
But this time, I decided to play with more colours and added a touch of Gold to the mood board.
According to my horoscope (Yes, I do believe in zodiac signs. Ha!), my lucky colours are Blue & Gold. Boom!
My friends and customers have expressed their love for my new website design. They said it looks beautiful and more functional.
Now, I won't pretend that I didn't make mistakes during my first year in business. I made a lot of mistakes, but the ones I'm going to share below takes the cake!
Mistakes I Made In My First Year In Business
1. No Proper Client Onboarding Process & Documentation:
In my previous article where I shared 10 Online Tasks I Do To Win Business, I share a situation where I wasn't managing my clients' expectations well enough.
That was because I didn't have proper client onboarding process in place. I ended up feeling overwhelmed and stressed out, which resulted in me letting clients projects slip through the cracks.
Therefore I have started sketching out my client onboarding process, employing the use of Asana (a project management software), creating my media kit, etc.
Everything has to be streamlined with my calendar this time around, so I don't end up running around in circles and provide great value to clients.
2. Poor Website Conversion:
Here are the things I discovered:
* Not Engaging Email List
* No Phone Call Follow Up
* Improper Time Management
* Not Utilizing The Social Network Free Tools
* Not Converting Customers Into Repeat Customers
* Not Doing Abandoned Cart Email Retargeting
Lessons I Learned In My First Year In Business:
Lesson 1 – Resource Management:
For once in my life, I appreciated the sacrifice my former employers made for we the employees in terms of providing the tools such as stationeries, laptops, fuel, comfortable workspace, tea allowance, transportation, salaries, health insurance, internet connection, and so much more.
That was when I realized that they pampered us and took care of our needs.
When I started out on my own, I spent some time on budget planning for important online marketing tools, internet subscriptions, virtual assistant, and website hosting.
Rather than go rent an office, I went back to my former employer and made a deal with her to promote her non-profit organization on social media in exchange for a free office workspace and boardroom to run my client meetings at her company in Ikoyi. WIN-WIN!
I knew I had to hustle real hard in landing paid client projects every month to take care of my monthly high speed internet subscriptions and marketing tools, and also pay my hardworking virtual assistant, otherwise I would be out of business.
Lesson 2 – Create Systems:
I saw the importance of putting systems and structure in place to enable my business run efficiently and create more time for me to plan ahead.
This saw me creating systems for onboarding new and current clients via CRM, hiring my very first virtual assistant to handle menial tasks, automating other tiny repeatable tasks using Zapier, automating my email newsletter, shopping cart abandonment email follow-up, retargeting ads, and proving after-sale support to customers. You can see some of the tools I use daily.
I share all these details in my 5-day Email Course: Digital Marketing Automation.
Lesson 3 – Community Building
2016 was the year that Facebook groups, LinkedIn groups, WhatsApp groups, and Pinterest Group Boards became so popular.
By creating my own group and engaging on other people's groups, I was able to surround myself with people that motivated me to succeed, increase my brand visibility, learn more about my target market's needs, and create content that help to solve their problems, and increase referrals and sales.
Read more on How I built and manage Facebook and Whatsapp groups.
I never regretted being active on LinkedIn groups & Nairaland, which has been my greatest traffic and client-generating source till date. Facebook and WhatsApp groups got me clients, too.
Belonging to these groups enabled me to help more people, garner respect from fans and colleagues in my industry and even partnered with a few experts to educate and impact positively on our target audience.
Lesson 4 – Branding:
This year saw me researching on the importance of branding for my business. I started watching what the experts did and not just what they said.
I took a critical look at their website design, marketing materials, brand colours, portrait photographs, landing pages, social media channels, storytelling, etc.
One thing I noticed was that their brand consistency was on point across their various channels.
So I started working on my personal branding as well. I started sharing my own original stories that resonates with my audience and got positive comments on my blog.
I had to do away with stock photographs and take my own pictures or design some using canva to put on my website or blog.
I saw the importance of controlling what people thought of and said about me when I'm not in the room.
Lesson 5 – Search Engine Optimization Sells:
After 12 months of doing digital agency work for various clients, I discovered that Nigerian businesses who were interested in increasing revenue bought my SEO services.
Thanks to Google's nationwide advert campaigns across Nigeria, more businesses continue to hire me to bake the best SEO practices into their website.
This generated more revenue for my company and many others.
Lesson 6 – Education, Hard work, & Consistency:
I love learning! I read a lot of books, articles, enrolled in a lot of video courses, practiced what I learned, and process of doing business became more better and better.
I tried out every tool that came out, from Facebook Live to Instagram stories, Youtube Live, Periscope, taking great pictures with my phone, editing my videos using Camtasia, creating online courses, and so much more.
I also saw the importance of staying relevant and consistent in the face of my customers everywhere they were until they decided to do business with me.
Lesson 7 – I Have The Best Support System in the World (My Family):
I don't know how I would have managed to juggle both my online business and taking care of my 9-year-old son.
My parents and brothers have been very supportive to me in keeping my son engaged while I worked. I cannot thank them enough.
2016 was my year of "NO SLACKING, BEAST MODE ACTIVATED!"
Whenever I felt like giving up or thinking of relaxing a little, I reminded myself that somebody else in my industry was working hard on his or her business while I was slacking.
This thought kept me moving ahead and being creative.
Those are my lessons for my first year in business.
So here are my business plans for 2017
PLAN 1 – VIDEO MARKETING:
This is the time to conquer my fear of the camera and do more videos to engage my audience. I have already started doing that on my YouTube channel. Please go there and hit the red subscribe button to get fresh video tutorial notification on digital marketing in your inbox.
PLAN 2 – 90-DAY BUSINESS FOCUS: TWEAK MY SALES FUNNEL
I plan to focus on improving ONE area of my business in order to increase sales in a 90-day challenge. 2016 saw me running several projects at the same time which got me feeling stressed out.
So I want to focus one doing ONE thing in my business every 90 days. And the first on my list is CONVERSION (Tweak My Sales Funnel / Pipeline).
Getting my current customers and the awesome people on my mailing list to spend more by up-selling more products to them.
PLAN 3 – AUTOMATION:
There are a lot of tasks that I need to automate.
It's time for me to step back and create a system for training more people without feeling fatigued.
That's where automated systems come in. I plan to upload courses online and sell to more people.
That way, there won't be need for venues or clients having to book hotels and flight tickets just to attend my training sessions.
What About Your First Year?
What lessons have you learned as a freelancer, as a contractor, or in the first year of your business?